My story - you'll love this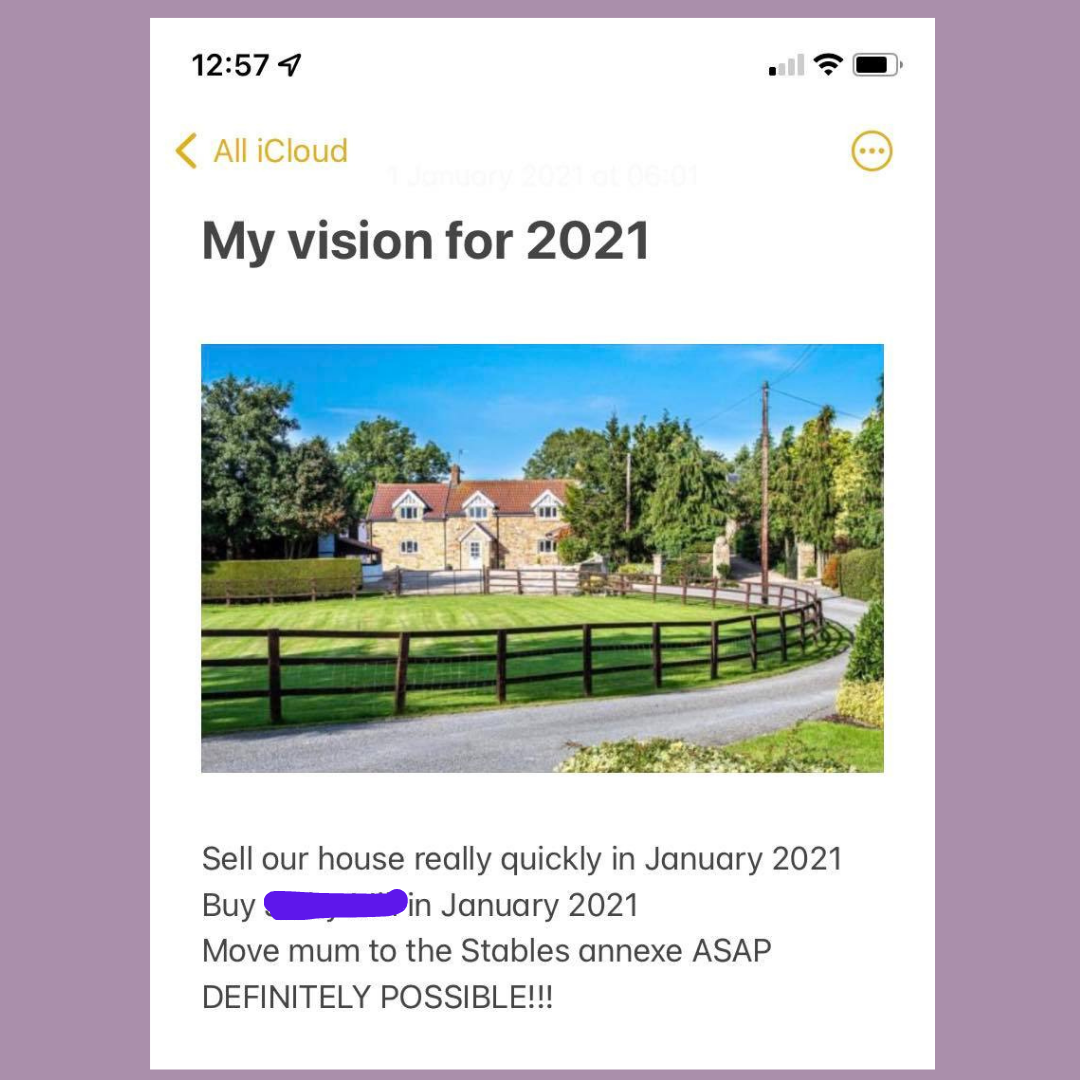 This was what I wrote on January 1st 2021 as my vision for the year. The day before I'd been to view this house and fell in love with it.
I needed to top up our deposit fund fast to secure the mortgage so I created an online programme I hoped my small audience would love. Using what I share in this DONE-FOR-YOU LAUNCH KIT I did a short launch to my list and social media following. I launched my £2000 online product with a half-price offer (well, £997) and sold 73 of them. That did the trick. We moved in on May 21st. And I did it using what I share in my launch kit.
LET ME TELL YOU ABOUT MY DONE-FOR-YOU LAUNCH KIT
It's a step-by-step, day-by-day 30-day launch kit for digital products including daily launch calendar, email & post templates, content prompts and more! I've not done anything like this before and I'm REALLY excited because I know the potential of what I'll be sharing with you.
My kit is designed to help you launch yourself on an unsuspecting world and get noticed by your potential buyers. Over 30 days you will ramp up your marketing and online presence to build a buzz and line up potential sales. 
Your DONE-FOR-YOU LAUNCH KIT includes:
Compelling Content Mind Map - This is where you'll quickly gather together the magic that will make your launch fly
Daily launch prompts - you will never be stuck for what to say or do during the 30 days of your launch because I've done it all for you. Every day you will have one or more marketing prompts as you count down from 30 days out to launch. Some days it will be suggested social media posts, others it might be emails to send or blogs to write. 
Canva templates - you will get Canva templates (using the free version of Canva) to help you create eye-catching social media posts that will grab the attention of your super customers.
Email templates - you'll find email templates you can tailor and adapt to suit your business, so there is no need to worry about what you're going to say. Talking of emails, I'll tell you how many to send and when to send them, so you just need to add your sparkle and follow the calendar.
You'll get lifetime access via the Simplero website and app. I'm including a couple of short training videos to help you.
How much is it?
It's just £97 for lifetime access and it's available now!
As investments go, this is a great one so grab it now before you get distracted and life gets in the way. 
Love, Claire xx
(Keep scrolling for FAQs)
Who is this for?
The DONE-FOR-YOU LAUNCH KIT is for online product creators who want to launch courses, classes, e-books, v-books and workshops but who struggle to know what to do and say (and when to do and say it) during the launch.
No more writer's block - I'm giving you my words and prompts to make your own, no matter what industry you are in or what customer base you are serving. This is a whole 30 days of launch content done-for-you to make your life easier and your launch effortless.
How do I make it my own?
Simple. I give you the words, you take them and adapt them to your customer base. I'll show you how. With the images, I'll give you editable Canva templates so you can choose words, fonts and images to suit your business. With the calendar, I recommend you don't tinker too much with the dates/prompts because this is a system and it works, but I will show you how to condense it if you're going for a 2 or 3 week launch period. 
How much work is involved?
Well, that's up to you. You can launch using just my prompts and templates or you can add more oomph by including videos and lives which I can't do for you, but I can tell you what to talk about (which is nearly as good). The more you put in the more you get out.
Look what Sally from The Therapist in My Bag just posted: